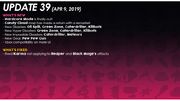 Version 1.39 is an update for Survive The Disasters 2. Released on 4/10/2019.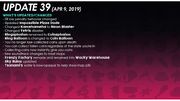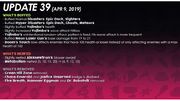 News
Fixes and Updates
Buffs and Nerfs
Sighters Increased damage from 18 to 24.
Buffed Hyper Disasters: Epic Duck, Ghosts and Meteors.
Slightly buffed Yojimbo's health and increased wave attack hitbox.
Yojimbo's unintentional random attack pattern fixed and his wave attack more frequent.
Buffed Neon Laser Gun damage to 21.
Doom's Touch now affect enemies with below 100 health.
Nerfed Alexnewtron's bloxxer award.
Metabolism orb nerfed.
Removed
Community content is available under
CC-BY-SA
unless otherwise noted.