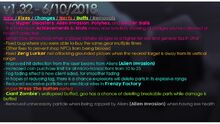 Version 1.32 is an update for Survive The Disasters 2. It released in June 11, 2018 (supposed to be June 10, 2018).
Additions
New Hyper Disasters: Alien Invasion, Polyhex and Soccer Balls.
Server now announces some general tips and when player obtains an Epic or a higher tier orb.
The buttons on "Achievements & Stats" menu now function, showing all badges you've collected or haven't collected.
Changes and Fixes
Fog fading effect is now client-sided, to make smoother fading.
Coin purchase limit will be increased from 10 to 25.
Hit detection in Alien Invasion will be improved. 
Fixed bug where players can buy the same gear multiple times
Excessive particles are reduced on electrical wires in Frenzy Factory
There is a chance an explosion will delete parts.
Other fixes to prevent shop NPC's from being bloxxed.
Fixed Zerg Lurker for not attacking grounded players when nearest target is away from its vertical.
Buffs and Nerfs
Removals
An unnecessary particle when taking damage from aliens (when having low health) will be removed.
Community content is available under
CC-BY-SA
unless otherwise noted.