Spiked Walls are a Disaster in Survive The Disasters 2.
Description
Two huge cobblestone walls will move towards the middle, coming from either sides of the map. The walls are full of spikes attached to them, which make it harder for players to move between them, once they have enclosed and reached the very center. Touching any part of the walls or spikes is 1-hit KO!
For the hyper variant, instead of two Spiked Walls appearing on both sides, four walls appear, forming a tight square place in the middle, rather than a line. The walls also move considerably faster.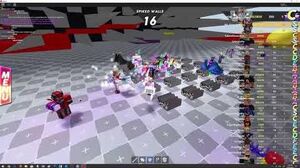 Finally, for the impossible variant, the spikes on the walls become much longer, increasing their hitboxes. Contrary to the hyper variant, there are only 2 walls instead of 4 and they move slightly slower. Players must stay in the small gaps between spikes in order to survive.
Memo Information
"Two spiked walls will come from two directions! The key of surviving is to always go in the middle of the map."
"Four spiked walls will come from all directions! These walls move faster than the standard Spiked Walls. The key to survive is to always rush to the center."
Trivia
Spiked Walls used to be called Closing Walls and always came from the front and back of the map. The walls would also be closer together than right now.
Before Version 1.19, Spiked Walls pushed all debris to the middle.
The Spiked Walls have missing spikes. They are actually invisible and fatal when touched.
Spiked Walls' spikes have faulty hitboxes, especially in their Hyper Variant. They are square shaped instead.
In Survive The Disasters 4 (April Fools 2018), its disaster warning was renamed to "Watch Out There Are Spiked Walls Inclosing Towards The Center".
In early testing servers, Vyriss leaked Impossible Spiked Walls. This means they are one of the oldest Impossible Disasters to ever exist.