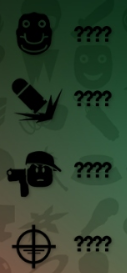 Secret Disasters were a type of Disaster in Survive The Disasters 2, exclusive to the Version 41.6's Disaster Rotation Event. This Disaster type introduced four new Disasters that were originally set to appear in the still upcoming Version 42, rotating each week as part of the event.
Disasters
Scoobis
The first Secret Disaster is Scoobis, a Disaster based off of a meme created by zKevin. Scoobis spawn on enemy Spawn Points and roll towards players. They deal very random amounts of damage, ranging from 1-100.
Giant Gun
The second Secret Disaster is the Giant Gun, a gun that spawns over a random enemy Spawn Point and shoots any players in range. The bullets deal 100 damage, but cannot go through blocks. Used bullets are harmless and remain on the floor for about twenty seconds after the round ends.
Delinquent
The third Secret Disaster is the Delinquent, a character skin from another game on Roblox called Arsenal. They function similarly to Alien Invasion, but spawn on enemy Spawn Points in a similar manner to Murderers. They shoot bullets that deal 9 damage each and cannot go through walls. The bodies of the Delinquents stay on the floor even after the Map changes.
Sniper
The fourth and final Secret Disaster is the Sniper. It spawns anywhere in the stage's background, before targeting and shooting at any player, dealing 100 damage. If their shot hits, they shout "Alright!"
Gallery